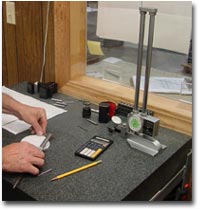 Our strong quality assurance policies, in concert with our corporate philosophy of "Zero Waste Manufacturing" have resulted in unprecedented perforformance ratings and that has given us the ability to meet our Customer's must stringent demands.
In order to provide a complete picture of our policies, we have included our complete Q.A. Manual for your perusal.
Scope:
The purpose of this document is to create an overview of the systems and procedures required to support our greater corporate philosophy. The essence of this philosophy being the successful implementation of Environmental and Social commitments that are clearly advancements to the "standards" set by our industry. It is our belief that a strong Quality Program is an essential element in this process and therefore, the following QA Policy will assist us in achieving these goals through the implementation of:
President, CEO- - - - - - - - - - Art Frengel

Accounting- - - - - - - - - - - - - Renee Frengel

Machining Dept. Manager- - -Brian Curtis

Safety Director- - - - - - - - - - Art Frengel

QA Manager - - - - - - - - - - Jason Frengel

Fabrication Manager- - - - - - -Taisun Tony-Williams

Shipping- - - - - - - - - - - - - - Placido Lopez

Purchasing- - - - - - - - - - - - -Jason Frengel


Below is a brief overview of each position's job responsibilities..
President / CEO
All legal correspondence,  Asset management,  Creates policy
Accounting
Receivable / Payables,  P/L reports, Cash Flow maintenance,  Payroll
Operations Manager
Is responsible for all aspects of Manufacturing, including; Quotations, Customer communications, Scheduling , Personnel.
Sales
Creates marketing plan, Customer liaison.
QA Manager
Maintains all quality related procedures, Calibration and record keeping of all inspection equipment.
Safety Director
All related safety programs, Record keeping as required by OSHA.
Purchasing
Vendor qualifications, Job related materials, Consumable supplies, Subcontracting, Expediting
Shipping
Safe and timely delivery of product,  Maintain customer packaging standards, Storage and inventory of completed goods, All support UPS and carrier activity.
Receiving
Inspection, Count, Disposition of all incoming materials, Stock rack maintenance, Receiving documentation accuracy and trafficking.
Facilities Manager
Repair and maintenance of all existing equipment, Installation of new equipment, Record keeping.
2.1]      Management Shall provide for the "annual" review of all company policies in an effort to determine their effectiveness.  Approved changes and recommendations are to be documented and filed until they become drafted into the "revised" body of text.  Changes are to be distributed to all personnel,  as required.
3.0  Standard Operating Procedures
3.1]  The Company shall produce and make available to all employees, a set of "Standard Operating Procedures".  The range and detail of the procedures will depend on the complexity of the work,  and the skills and training required to carry out the specific activity.
4.1]  A system shall be established and maintained through which all "hard copy" customer communications with regard to manufacturing requirements will be filed and made accessable to management.  The system shall include;
E-Mail
Fax Transmittals
Print Documents
ECOs
Formal and Informal quote response
Purchase Orders
Shipping Records
4.2]  A system shall be in place to insure that proper "rev levels" are available during manufacturing and that obsolete drawings or information are removed from circulation and clearly marked  "obsolete".
4.3] A system shall be in place to track each separate purchase order through manufacturing.  Included shall be;  Job #, PO#, P/N, Rev. Level, Qty, Delivery Schedule, and, any information regarding material requirements. 
4.4]  Daily production meetings will be held between management and associated production personnel to ensure "on-time" production of all work in process.  Customers are to be notified by the Operations Manager, immediately,  if there is a determination that a delivery may be missed.
4.5]  A system shall be in place for the tracking of "Job" performances as they relate to each individual run.  This system shall include, but not be limited to;  Efficiency Ratings,  Related Manufacturing Problems, Improvements in design or technique.
4.6]  Only documentation that has been "officially" adopted by management shall be used.  Employees shall be properly instructed as to the use of all approved documentation's.  Copies of approved documentation's shall be attached to this manual and made available for review.
4.7]  Employee responsibility with regards to documentation will be clearly established through regular training and periodic individual review.
5.1]      The company shall identify an individual as "Purchasing Manager" to assume the procurement responsibilities for the following;
All Job related materials, including hardware.
Subcontracted products and services.
Consumable supplies.
5.2]      The company shall establish a list of "Certified" suppliers.  Supplier certification will be determined according to a rating system that will contain the following criteria;
Product quality
Service dependability
Price
Corporate Social Responsibility
5.3]      Manufacturing suppliers will be designated as "Qualified".  On-site inspections of supplier facilities will be done as needed.
5.4]      A list of qualified suppliers shall be maintained and made available to Customers upon request.
5.5]      All "job" related purchasing activity shall be fully documented and maintained.
5.6]      Purchasing Manager shall be responsible for order placement, timely receipt of goods, and price paid, including applicable freight charges.
6.1]      Receiving Inspection and Testing.  A system shall be in place to ensure that the materials received are correct and of good quality.
6.2]      A system shall be in place to ensure that "non-conforming" materials are clearly identified and kept separate from "conforming" materials.
6.3]      A system shall be in place that insures a "first article" inspection and "sign-off" during each new phase of all work in process.  First article sign-off sheets shall accompany each Job through the manufacturing process.  Records are to be filed with closed jobs and made available for review at a later date.
6.4]      Individuals responsible for inspections shall be clearly identified and available at all times during regular manufacturing hours.
6.5]      A final Inspection Report shall be completed by designated individuals and filed with specific job.  A copy shall be provided to customers.
6.6]  Final inspections shall be performed on "lot" sample quantities of up to 100%.  Quantities to be determined by QA Personnel as required to ensure run accuracy.
6.7       A "Corrective Action Report" must be completed by the Operations Manager with regard to all "Customer Rejected Materials".  A copy of the report is to be kept on file and made available upon request.
6.8]      A system shall be in place for the review and documentation of all "non-conforming" materials.  Materials that do not meet customer specifications shall be identified, tagged, and stored, in a way that will prevent them from being mixed with "conforming" materials, until proper disposition can be determined.
6.9]      All inspection equipment is to be calibrated according to schedule using certification services  and/or techniques that are known to be accurate.  Schedules are to be based upon the individual instruments usage.  All equipment is to be tagged with the date of next calibration and a log of this activity is to be maintained.
7.1]      Valley Plastics shall assume full responsibility for the proper handling and storage of all customer supplied materials or tooling.
7.2]      The company shall maintain a controlled inventory of spare parts and tooling.  Consigned materials and tooling shall be properly stored and identified.
7.3]      All completed product over-runs shall be inspected, identified and stored in inventory in such a way as to insure their separation from incomplete or non-conforming materials.
7.4]      All tooling, jigs, and fixtures shall be stored and clearly identified with; customer name, part number and latest rev level.
7.5]      Parts are to be packaged and shipped in such a way as to insure their safe and timely transport to the customer's facility.
8.1]      Employees are to be properly trained as to the level of manufacturing to which they are permitted to perform.
8.2]      Manufacturing employees shall be properly trained in the utilization of all tools and programs relevant to their job classification.
8.3]      A system of communication shall be established  between management and manufacturing personnel that facilitates the efficient and timely flow of information regarding customer expectations.
8.4]      Employees shall be required to operate in a clean, organized fashion to insure the efficient transfer of task responsibilities from one employee or department to the next.
9.0       Employee and Job Performance
9.1]      As relevant to employee performance, all employees are required to keep accurate records as to time spent on a job.
10.1]    Each employee will be required to attend an annual meeting to discuss the entire scope, including revisions, of all Valley Plastics Policies, which is to include this QA Manual.  Records are to be kept of those in attendance.
10.2]    Employees are to be classified as to the level of manufacturing at which they can operate.  A clear set of guidelines and expectations will be delivered to each individual employee during his/her formal annual review.  Employee are expected to operate within the standards set by these guidelines.  Management shall work continuously towards assisting employees with meeting these expectations through both, "on the job training" and, "outside education".
11.1]    Equipment use in the manufacturing process shall be maintained as to adequately perform the task required.  A log shall be kept of all routing maintenance operations.
11.2     In the case of "critical" pieces of equipment where replacement parts have a typically long lead time, spare parts inventory is required to avoid the potential for excessive down time.
12.1]    Programs shall be implemented that provide for the efficient exchange of information that will serve to improve product quality or reduce price.  ( see "Cost Effective uses of Fabrication Technique")
12.2]    The names and telephone numbers of "key" engineering dept. contacts shall be maintained for each customer.
12.3]    Sufficient personnel will be made available to assist qualifying customers with their engineering needs, and shall include on-site visits to customer facilities.  We will also make available, sample materials or technical data upon request.
13.1]    The company shall create a program for the purpose of recognizing individual contributions that have resulted in one or more of the following.
An improved method or technique that drastically increases productivity.
Innovative ideas that, once adopted, have created a positive environmental impact.
Dedicated long term service or achievement with regards to a "specialized" skill or effort.